There are few things I love more than travel, especially to unusual and exotic places. In the last ten years or so I've covered around 25 countries in Europe, Asia, the Middle East and South America.

My first taste for adventure came when I was around 13 years old, when my parents took me and my brother to Mexico's Yucatan Peninsula to visit the Mayan ruins of Chichen Itza and Tulum. I was completely blown away as I climbed pyramids and explored fresco-filled caves in the humid heat of the jungle. In college I spent a semester abroad in Scotland at the University of Edinburgh and wrapped up my stay with a backpacker tour of Europe. In less than 30 days I managed to wander the boulevards of Paris and Berlin, get lost in the old Jewish quarter of Prague, and get snow-bound in Salzberg over Christmas week.

It was pretty clear to me that world travel would become an important part of my life - as soon as I could graduate and find a job that would support my habit. After cranking out a master's degree I found myself at the Corporation for Public Broadcasting, which among other things offered me three weeks of vacation. Ever since I've managed to horde those precious vacation days and use them to take some great adventures. Some of the highlights:
In October 2003, I was invited to Dubai, in the United Arab Emirates, to participate in the grand jury of the World Summit Awards, the official competition of the UN World Summit on the Information Society, which took place in Geneva in December 2003.
Prior to the start of the meeting, I managed to escape to the southeast corner of Arabia for a three-day excursion to the Sultanate of Oman. Oman is a fascinating blend of the old and new: its capital, Muscat, is one of the most charming cities I've visited in the Middle East. But the real highlight of Oman was its 17th century forts: immense sandstone citadels that have been restored to their original condition. For anyone who's interested in exotic fortresses, Oman should be at the top of your travel list.
Back in Dubai, I went to work with the rest of the grand jury team, but also had a couple of chances to visit Old Dubai, its many bazaars adjacent to cutting-edge modern architecture. I even got to go to a dinner celebration hosted by Dubai's crown prince. All in all it was a wonderful experience.
I've published a photo gallery documenting my trip to Oman and Dubai, along with the online diary I wrote during the course of my trip. (The diary, written as a Web log or "blog," is written in reverse order, with the last installment displayed first.) I hope you enjoy the photos and the diary!
Bali: Honeymoon in Paradise
After eight years of traveling the world together, Susanne and I finally took the plunge and got married in May 2003. Of course, we had to go somewhere special for our honeymoon, and we both agreed their was only one place we really wanted to go: Bali, Indonesia.
Susanne and I had dreamed of going to Bali for years; the 40-hour commute from Washington was well worth it. We spent 17 days on the island, much of it based in Ubud, Bali's cultural capital. Ubud gave us a chance to explore Bali's legendary dance, music and art, which we soaked up in spades.
When we weren't in Ubud, we were exploring the eastern half of the island, including its ancient shore temples in the south, the terraced rice paddies of Tirta Gangga, the isolated beaches of Amed, and the volcano-perched mother temple of Pura Besakih. Along with its natural beauty and culture, Bali is a spirtual place, with temple ceremonies, birth rites, funerals and everything in between occuring on a daily basis. Amazingly, the locals are quite welcoming of tourists when it comes to attending religious ceremonies, so we really got a first-hand look at the incredible richness of the island's unique form of Hinduism.
The two of us took well over 1000 photos on our honeymoon, and managed to have all of them digitized. Here in our Bali Honeymoon photo gallery, you'll find a selection of our favorites. If all goes well, you'll be immediately inspired to take your savings and invest in tickets to Indonesia. Despite the bombings, SARS and other troubles looming over it, Bali was the safest, most magical place we've ever visited.
Cuba: Havana Gallery
In late July 2001, Susanne and I were fortunate enough to be able to travel to Havana, Cuba. We managed to visit without raising the ire of our government because we traveled on an independent license: Susanne shooting video for a National Geographic Channel documentary, while I made site visits to Havana's Internet training center. Once we returned home I put together this photo gallery documenting the people and places we experienced around Havana.
Going to Cuba gave us an incredible opportunity to visit Havana, a place where few American citizens visit -- legally, at least. Staying in Havana's old town, we managed to get a brief taste of modern Cuban life, visiting Havana's sites and meeting its people -- some of the most welcoming, generous people we've ever met in our travels.
Some day, relations between the US and Cuba will improve, and I imagine you'll see hordes of American tourists packed into local Starbucks and Rainforest Cafes. Until that day comes, though, Havana remains and elusive port of call for US citizens....
Greece, Albania and Istanbul: Southern Balkans Gallery
In March 2001 I was invited to speak at the third World Summit on Media for Children in Thessaloniki, Greece. Susanne and I hadn't taken a vacation since our September 1999 trip to Turkey, so we decided to go to Greece a week early to explore northern Greece, including the town of Ioannina, the alpine village of Metsovo, and the clifftop monasteries of Meteora.
Since we were in the neighborhood, we also crossed the border into Albania to visit the medieval city of Gjirokastra. Cut off for five decades by communism, Albania is slowly opening its doors to outsiders -- and Gjirokastra is perhaps the best reason to visit. Its traditional slate-covered houses perched on a steep hillside, Gjirokastra is caught in a time warp: a perfect place to explore Albania's rich, but difficult history.
Following the conference, I went to Istanbul for several days, visiting a local high school that was one of the first in the city to get Internet access in the classroom. It was my second trip to Istanbul, and it gave me a chance to revisit some of my favorite sites, as well as discover new ones such as the Byzantine Kariye (Chora) Church.
The photo quality for this gallery isn't exactly top-notch -- they come from a CD-rom made when I had the photos developed by Ritz Camera, and they didn't do the greatest job. Nonetheless, they'll hopefully give you a glimpse into our visit to the region....
Turkey: Anatolian Fortnight
In September 1999, Susanne and I made a mad-dash cross country trip across Turkey. The account of our journey, Anatolian Fortnight, is now available online. In the 17 days we had to explore Anatolia we packed in an incredible amount of history, from the great mosques of Istanbul and the Roman city of Ephesus to Kurdish castles near the Iraqi border and ancient Armenian cities in the Turkish Caucasus.
As fate would have it, we purchased our tickets just four days before the devastating earthquake that killed thousands of people in northwest Turkey. Susanne and I were both determined to make the trip nonetheless, despite the advice of numerous friends and relatives.
Upon our arrival in Istanbul it was clear that the damage was far from the historical sections of the city, on the industrial outskirts of Asian Istanbul. To put it in perspective, it was as if we were under the impression that a major earthquake had hit downtown Chicago, but in reality the closest damage occurred in Gary, Indiana. Because of this we saw absolutely no evidence of the quake, even though we arrived barely 10 days after the disaster.
At first Istanbul was a dreary, rainy city, but as soon as the skies cleared we quickly began to enjoy ourselves. Istanbul had all the sophistication of a western European capital blended with a Middle Eastern melange of spices, water pipes, and Islamic calls to prayer. After a brief stop along the Aegean to visit the Roman ruins of Ephesus we made a beeline for the interior, spending three wonderful days in Cappadokia. Cappadokia is full of bizarre volcanic rock formations that were used for centuries as medieval Byzantine churches. We explored 1000-year-old monasteries, hiked ancient gorges and explored mountainside villages by motorscooter. Apart from a head cold and a large scorpion in our room we had an amazing time in Cappadokia.
From Cappadokia we entered the western outskirts of Kurdistan, the Kurdish homeland encompassing eastern Anatolia as well as northern Syria, Iraq and Iran. One day before dawn, Susanne and I ascended Nemrut Dagi - Mount Nemrut - to watch the sun rise and explore the ancient mausoleum of crazy Greek king Nemrut, who built enormous statues of himself and the Greek gods at its peak. Shattered by countless earthquakes, the statues are all decapitated, with their massive stone heads sitting upright on the mountainside (as you can see in the above picture). Then we proceeded to Urfa, the medieval crusader city of Edessa and ancient Ur of the Chaldees, birthplace of Abraham. There we visited Abraham's pool and other pilgrimage sites. Urfa is one of the most conservative cities in Turkey but it made for wonderful exploring opportunities.
Our final destination was the Lake Van region, in the heart of Kurdistan. Using the town of Van as a base, we explored the Kurdish castle at Hosap and Akdamar Island's Holy Cross Church, the holiest site in ancient greater Armenia.›We also made an excursion north, into the Caucasus, to the old Armenian capital of Ani. Now a deserted cow pasture in a no man's land between Turkey and Armenia, Ani was one of the greatest cities of the 11th century. We explored its ghostly cathedrals and churches as armed Turkish soldiers stood guard. On our way back to Van, Susanne and I stopped at the foot of Mount Ararat and visited the glorious Kurdish palace of Ishak Pasa in Dogubeyazit, one of the most memorable images in Turkey. Unfortunately we were accosted by a pair of police thugs on the way back from Dogubeyazit: they fired several warning shots over our car, threw me against the hood and frisked me until they noticed my US passport. It was a thoroughly disturbing experience and it hammered home the humiliation local Kurds must go through at the hands of the Turkish military because of the recent separatist uprising. Kurdistan opened my eyes to many things I would have never expected.
Considering our trip to Turkey was just over two weeks long, we packed in an enormous amount of adventure during our visit. To top it off, both the Turks and the Kurds were some of the kindest, most generous people we've ever met in our travels. It sometimes was hard to get through a day without being offered tea by strangers. Anatolia was truly a place we will never forget: I hope Anatolian Fortnight does it justice.
South America:
Peru and Bolivia
This past September, Susanne and I returned from a two-week trek across the Andes Mountains from Cusco, Peru to La Paz, Bolivia. It was an exhausting adventure: though neither of us contracted altitude sickness, the high elevation gave us both sinus infections and kept us huffing and puffing a lot. (And thankfully neither of us had stomach problems, or as I liked to call it in Peru, Aguirre: Wrath of God...) Overall we had a great time, though. Machu Picchu is beyond words - I wish I could have spent weeks there instead of three days. Cusco was a fascinating town, with its blending of Inca and Spanish colonial architecture. We also visited the Bolivian side of Lake Titicaca, which was beautiful but frigid - there is no heat whatsoever in the town of Copacabana, so it's impossible to ever get away from the freezing temperatures. We warmed up by wrapping up the trip in La Paz, Bolivia's lively capital. Everywhere we went in La Paz there seemed to be a political protest or rally. I've never been to a city that was so politically active, and I even live in Washington DC!
As always, I kept a journal of the things we did and saw. It took me six months to finish writing it (Lake Titicaca was so cold I got a week behind in my journal) but it's now complete. High Plains Backpacker is a virtual tour of our journey through the Andes, with lots of pictures and great stories. I hope you enjoy reading it.
Southeast Asia:
Cambodia, Laos, Thailand and Hong Kong
In November 1997 my girlfriend Susanne and I spent over three weeks backpacking across much of Southeast Asia. Overall, it was a great trip. As soon as we arrived in Bangkok, we decided to spend four days in Cambodia - against the better advice of the U.S. State Department. Cambodia is a world of incredible contrasts, from the sobering rice paddies of the Killing Fields outside of Phnom Penh to the glorious ruins of Angkor, which were by far the greatest sight I have ever seen. Laos was friendly and cozy. I could have spent weeks relaxing in the ancient Lao royal capital of Luang Prabang, wasting away the days along the Mekong River helping young novice monks practice their English. And Thailand, well, Thailand had more Pizza Huts and Kentucky Fried Chickens than I expected, but hey, it's still a great place to shop.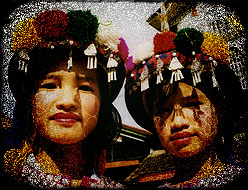 Susanne and I took nearly 900 pictures on this trip: the photo to your left is of two hilltribe girls we met in Mae Sai, a northern Thai town on the border with Burma. We also kept travel journals along the way, which you can now enjoy as part of our twin websites - my Southeast Asia Diary and Susanne's Southeast Asia Journal. For those of you specifically interested in our experience in Cambodia, check out A Day in the Killing Fields, my journal entry for our afternoon in Phnom Penh. I should warn you, though, the story deals with the horrors of the Cambodian genocide - appropriate reading for high school history students, but a little graphic for younger kids. Use your best judgment. I've also recently developed a new site dedicated to Cambodia's Khmer Rouge years called From Sideshow to Genocide: Stories from the Cambodian Holocaust, so be sure to visit it. Finally, you can also visit The Children of Southeast Asia, our online photogallery of some of the many wonderful kids we met during out travels.
The Subcontinent:
India and Nepal
Susanne and I had dreamed of going to India for years. In November 1996 we made the day-long flight to New Delhi and began a three-week jaunt across the subcontinent. We wandered northern India, from Delhi and Agra to Varanasi and Calcutta, hiked the hills and meandered the markets of the Kathmandu Valley in Nepal, and braved the monsoon season in Madras and coastal Tamil Nadu. (The gentleman you see to your right, btw, is a Hindu holyman I met at the Kali Temple of Calcutta just before the daily morning goat sacrifice.)
Simply put, India is an incredible place. Incredibly crowded and filthy, yet incredibly beautiful and mystical. Whether it was exploring the abandoned Mughal palace city of Fatehpur Sikri or floating down the Ganges at dawn, I was overwhelmed by the life of India and its many peoples, its spirituality, and sadly, the tragedy of it being such an overpopulated and polluted place. Traveling to India was taxing on the soul, but worth it in every way.
Nepal, on the other hand, I found to be a cleansing and peaceful experience, especially after spending a week in the crowded alleyways of Delhi and Varanasi. Though Kathmandu suffers from the same problems that haunt other large third-world cities, I found it to be full of smiling people who worked hard and were immensely proud of what they had. A melting pot of Nepalis, Tibetans, Newaris, Kashmiris, Tamang hillpeople and many other cultures, Kathmandu was vibrant and alive, always with a new surprise around each corner. I can't wait to go back.
After the trip I developed both a photogallery and an online journal. Please feel free to check out my Subcontinental Slide Show, which includes many of the pictorial highlights of the trip. And for you intrepid readers out there, you can also look at my India and Nepal travelogue - all 40,000 words of it. It's interpersed with some of the best photos of the trip, not to mention recipes of the various dishes we savoured along the way....
The Middle East:
Egypt, Jordan and Israel
In 1995, Susanne and I our first big step beyond Europe and visied the Middle East. We spent 17 days traipsing around Egypt, Jordan and Israel - and had the fateful coincidence of being there when Prime Minister Yitzhak Rabin was assassinated. We were completely enthralled by the sights and smells of the Middle East, yet our trip was tempered by the solumn ceremony of Rabin's funeral and the week-long memorial at the spot where he was killed in Tel Aviv
During that Mideast trip, Susanne and I each kept a journal of our experiences. Upon our return to the US I transcribed my journal and developed my first travel website. The result of this effort was Andy's Mideast Journal, which went online in early 1996.
home | welcome | what's new | travels | projects | writings | diversions | trivia

Andy Carvin's Waste of Bandwidth. Copyright 1994-present by Andy Carvin (acarvin@benton.org). All Rights Reserved.