A kebapci makes fresh kebaps on the streets of Istanbul

Friday, August 27.

The imaginary voice of a muezzin echoed through my head as our taxi departed from the chaos of Atatürk Airport. As we drove to our hostel in the heart of Old Istanbul, I longed to hear that voice in person -- that dulcet lyric that would soon beckon the faithful to noontime prayers.

Ever since experiencing the sounds, sights and smells of Cairo and Amman during our 1995 visit to the Middle East, Susanne and I had both longed to return to the region. Now four years later, the opportunity had finally arrived, though our timing was indeed ominous. Only a week prior to our arrival, a great earthquake had shattered the industrial suburbs of Asian Istanbul, killing over 18,000 people. We had been reassured by contacts in Turkey that the historic parts of Istanbul had been untouched by the quake -- we would probably not experience any problems during our stay. Nonetheless, Susanne and I were both eager to get settled in the city and begin our 18-day adventure, hopefully without the fear of aftershocks overcoming our enthusiasm.

Our taxi pulled into the hilly neighborhood of Sultanahmet, home to Istanbul's most famous landmarks, including the Byzantine church of Aya Sofya and the exquisite Blue Mosque. I was struck by Sultanahmet's seemingly Old Europe character: winding passages, uneven cobblestone, thin-faced buildings that would have been at home in Amsterdam or Brussels. A steady light rain sprinkled across the neighborhood, leaving small puddles along the sidewalks. Was this really the gateway to Asia, the threshold to the Middle East and the Islamic world? From the sheltered confines of our taxi, it was hard to tell. Yet when Susanne opened the car door to dart through the raindrops into our hotel, the sweet sound of the muezzin's call to prayer reached my ears. This time, the voice of the muezzin did not emanate from the confines of my imagination. The noon call to prayer radiated from all directions, echoing along Sultanahmet's cobblestone corridors. The song was the perfect greeting to Istanbul, a city where quite literally East meets West, where Europe meets Asia.

Anatolian Trivia

It's often said that Istanbul has been a city of three names -- the ancient Roman city of Byzantium; the Roman, Greek and Ottoman city of Constantinople, and the modern Turkish city of Istanbul. But these aren't the only names that have graced this city. In literary Ottoman it was known as Der-i Saadet, or the House of Good Fortune. To the Russians, Bulgarians and Serbs, it was Tsarigrad, or the City of Emperors. For Armenians, it was Gostantnubolis, which, like Constantinople, means City of Constantine. But today, the name we use comes from the Greek phrase "into the city" -- eis teen polin, or Istanbul.

After checking into the Orient Hostel, Susanne and I climbed up to the hostel's rooftop terrace to have a Coke and plan our day. Rain continued to shower down over the mighty Bosphorus, flowing immediately to the east. If today turned out to be a washout, that wouldn't necessarily be a bad thing. Neither Susanne nor I had slept well during the 10-hour flight from JFK, so we planned to take it slowly, get our bearings in the neighborhood and perhaps visit a museum or two. There was no point in burning out on our first day of our trip -- over the next two and a half weeks we hoped to cross the entire length of Anatolia by land, traveling from Ephesus along the Aegean coast to the Kurdish town of Dogubeyazit along the slopes of Mount Ararat and the Iranian border. We would probably have to talk with the Orient's travel agency in order to sort out the details.

Around 1pm we left the hostel, following Akbiyik Caddesi uphill past the Isak Pasa Mosque onto the southern grounds of Topkapi Palace, home to generations of Ottoman sultans. We intended to save Topkapi itself for another day -- right now we would concentrate on Istanbul's archeology museums. The park surrounding Topkapi and the museum complex was awash with green: neatly aligned trees swayed in the damp, chilly wind as they stood guard over acres of Ottoman gardens. On this chilly, damp afternoon, Istanbul was more akin to London's Hyde Park on a brisk November day. If Istanbul were truly the gateway to the arid Middle East, it would seem that the verdant tracts of Europe would not submit until they were submersed into the Bosphorus itself.

Susanne and I soon reached the outer gate of the archeology museum complex. To our chagrin, a sign near the gatehouse informed us that the Museum of the Ancient Orient -- which included the famous Code of Hammurabi tablets -- was closed for renovation. The Museum of Ancient Works, however, was open to visitors, so we decided to give it a go anyway and pay the one million lira ($2.50) entrance fee.

The museum was a wide, high ceiling structure with ample space for a multitude of large Roman statues and Greek sarcophagi. Apart from the sound of a guard pacing in front of the central staircase, the museum was eerily quiet, as if it too had been closed to the public. There was no one to greet us except scores of ancient statues collected from along Turkey's Aegean coast. The first room contained pieces from an early Anatolian period of Persian domination, with friezes and bas-reliefs of Iranian soldiers that would have been at home in the ruins of Persepolis.

In the second room we encountered a collection of marble lions, friezes of mythical gods at play, Medusa heads and statues of upstanding Greco-Roman citizens. Susanne called out to me from across the hall, asking me to come over to her side of the room. I was greeted by a bust of a familiar boyish face with a chipped nose.

"It's Alexander," Susanne said, marveling at the bust. Indeed, she had found that famous likeness of Alexander the Great that has graced the cover of so many classical history books.

"What's he doing here?" I asked. "I would have guessed he'd been whisked away to the Louvre or the British Museum a long time ago."

After having our fill of Greco-Roman antiquities we crossed to the far side of the museum to visit the "Mausoleums of Sidon" exhibit. Two immense, dark rooms hosted a series of monolithic sarcophagi, all of which served as the resting place of particular Phoenician potentates from approximately 2000 years ago. All of the sarcophagi had been vacated of their royal guests, though one stone casket sat adjacent to the withered mummy of its long-dead former client. The first room contained sarcophagi exhibiting an obvious Egyptian influence, including hieroglyphs and profiles of Egyptian gods. The second room, in contrast, bore intricate friezes of Greco-Roman influence.

The most exciting find on display was the so-called Alexander Sarcophagus, designed in honor of Alexander the Great -- despite the fact that he was never its actual inhabitant. The four sides of the sarcophagus were carved with incredibly life-like action scenes of Alexander fighting the Persian army and hunting menacing lions. The battle scenes were etched as if someone had taken a 180-degree freeze frame from a battle sequence in Braveheart and sculpted it into an eight-foot bas relief. Persians swung battle axes as Greeks parried swords and severed limbs. You could feel motion in the stonework.

Susanne and I stepped out of the museum to discover that the early afternoon London drizzle had graduated to an old-fashion Florida thunderstorm. We retrieved our umbrellas while contemplating what to do next. Since there was a good chance that the rains would continue most of the day, we concluded we would go somewhere where neither rain nor shine would be an obstacle to our enjoyment. It was time to go underground.

Yerebatan Saray, or the Sunken Palace, is a subterranean cistern occupying almost 10 hectares below the heart of ancient Constantinople. Built by Roman emperor Justinian the Great in 532 AD, the cistern could hold over 80,000 cubic meters of drinking water for emergency use during sieges and other times of dire threat. The entrance to the cistern was near the northwest corner of Aya Sofya, about a 10-minute walk from the archeology museum.

Before departing for the cistern we strolled through a tree-enclosed garden next to the museum. This particular garden was littered with the remains of giant stone columns, keystones and assorted ancient temple parts. It was quiet literally a Roman architectural junkyard. We stepped through the puddles and muddy grass as the rain drops pooled atop these ancient marble snapshots of a by-gone era.

After briefly descending from along a steep hill, we turned left up a second bluff, following the Sultanahmet tram line along Alemdar Caddesi. At the point where the tram line made an 80-degree turn up Divan Yolu Caddesi, we found the gate to the Yerebatan Saray cistern. Having paid the 1.5 million lira entrance fee -- about $3.25 -- Susanne and I made our way down a slippery stone staircase. As I descended the steps and removed my sunglasses, I noticed the sound of classical music emanating from below.

"Is that music down there?" I asked.

"Yeah," Susanne replied, "I read about it in Lonely Planet. I think I would have preferred to have been surprised by it, though."

We completed the final turn into the cistern and were greeted by a strong wind of humid, temperate air. In front of us a vast dark hall slowly revealed itself, with dozens of enormous, evenly spaced columns rising out of a seemingly endless pool of water. Above us, regular streams of rain droplets seeped through the porous stone ceiling and plummeted into the cistern, creating multiple pulses of plip-plop, plip-plop. The droplets served as randomized percussion to the recordings of Mozart and Beethoven that echoed through the vast chamber.
Susanne and I carefully walked down the wooden platform suspended just above the pool. The dripping water from above combined with the high humidity made the walkway very slippery. As we peered across the shimmering cistern, steadying our cameras on the railing to capture a picture out of the darkness, an older gentleman walked by with a wide rubber broom, sweeping away the excess water off the platform.

"Merhaba," he said to me as he passed us.

"Merhaba, effendim," I replied, nodding my head politely.

Susanne and I wandered the maze-like paths of the cistern, passing through the flickering shadows of Ionic columns as Beethoven's Ode to Joy filled the chamber. Plip-plop, plip-plop. We noticed a sign pointing to the "Medussa" -- this, we assumed, was the cistern's famous Medusa Columns, in which the pedestal of two columns are carved like giant Medusa heads. Crossing to a far corner of the cistern, we descended a ramp towards a row of columns. A Turkish family of five was posing for a photo in front of one of the Medusa heads. I wiped my glasses with a handkerchief and cleared them of condensation while we waited for the opportunity to inspect the column. As the family passed us, one of their sons bent down to pick something off the walkway.

Turkish Pronunciation

Interested in learning how to pronounce the Turkish words mentioned in this journal? Check out my Turkish pronunication guide!

"Effendim!" he said to me, reaching towards my shoulder. As I turned towards him, he held out his hand, a five million lira note worth just over $10 in his palm. I reached into my left pocket and realized that I had dropped the money when I had pulled out my handkerchief.

"Tesekkür ederim," I said gratefully, thanking him.

"Sey degil," he replied shyly.

As the Turkish family left, we reached the base of the Medusa columns. A large face with hair of serpents was carved sideways into the pedestal, illuminated by eerie green lights. Why the face was carved sideways I didn't know, but it felt as if the medusa had dropped dead and had somehow petrified herself where she fell.

Susanne and I made our way towards the exit near the far side of the cistern, next to an underground cafe where you could sip Turkish coffee or çay while protected from the dripping water by a large tent. Susanne briefly crossed back to the middle to get one last picture, sneaking beyond a small chain that had been raised to prevent people from backtracking to the entrance. She circumvented the obstacle by deftly stepping over it when no one was looking, though I later caught a stern stare from a workman as we exited the cistern.
Back on the streets of Istanbul we stopped for a snack at a patio restaurant called the Altin Kupa, just off the Sultanahmet tram line. The waiter who sat us spoke excellent English, not to mention Spanish to the table adjacent ours, and bore a striking resemblance to the actor Tom Sizemore. We ordered a hummus plate, a piece of baklava and Turkish coffee in honor of our arrival in Istanbul. Our waiter informed us that they only served desserts after 7pm, so we couldn't order the baklava any time soon. The hummus turned out to be more than enough for us; it was a dark orange paste, much less moist than the hummus you get in the US. The only way to eat it was to spread it with a knife on slivers of bread - dipping the bread into the crumbly hummus was totally futile.

As we sorted out where we would go next, Susanne asked a second waiter if the restaurant had a bathroom. "Tuvalet var mi?" I showed her how to say in Turkish. The waiter, to our surprise, pointed to the park across the street. I tried repeating the question in both English and Turkish, but again he pointed to the park. Perhaps there was a public WC across the street -- or could it be he was actually suggesting that Susanne duck behind a bush in the park? Just as she began to get up with a worried look on her face, the waiter waved his hand in the air and smiled.

"I am joking with you," he said in English. "It's in the back, to the left."

Susanne and I shook our heads and laughed. Welcome to Istanbul - the joke's on us.

The rain seemed to be relenting so we decided to walk up Divan Yolu Caddesi to Istanbul's famous Kapali Çarsi, or covered market. The Kapali Çarsi was Istanbul's largest bazaar, catering to every shopping whim imaginable. As we passed a long row of kebapcis and pidecis -- kabob and pizza joints -- we reached a small square with an ugly stone pillar at its front and a sizable mosque near the back. The mosque was easily marked on our map as the Nuruosmaniye Camii, built in the 1750s by Sultans Mahmut I and Osman III. We couldn't visit it that particular day because it was a Friday, the Muslim sabbath, and it would have been inappropriate for non-believers to play tourist. The pillar at the front of the square, however, was a bit of a mystery. Tall, grungy, chipped, and enveloped by rusty metal braces, it looked like a Dickensian English smoke stack. Susanne speculated it might be Constantine's Pillar, a 1,600-year-old column commemorating the spot where Roman emperor Constantine the Great proclaimed the location of his empire's new capital. Our Lonely Planet guide provided no obvious clue to its purpose, so we continued our way to the Kapali Çarsi, weaving through several alleyways before reaching the southern gate of the market.

Crowds of shoppers visit the Kapali Çarsi

As we entered the bazaar we found an enormous arcade running as far as the eye could see, with hundreds of shoppers packed in the hall in front of us. Calling the Kapali Çarsi "enormous" just doesn't convey the wonder of this place, though. First opened in the mid-15th century during the reign of Mehmet the Conqueror, the market grew as fast as it could absorb the land around it. Now the Kapali Çarsi housed over 4000 shops, as well as banks, restaurants, mosques and workshops. At the height of the Ottoman Empire, there were overnight hostels, or caravanserais, located at each corner of the market to allow weary merchants to spend the night in Constantinople without ever leaving the bazaar.

Being the traveler's mecca that Istanbul is, the Kapali Çarsi is now in many ways a tourist's bazaar, where visitors can buy ornamental tea sets, nargileh water pipes, carpets, Turkish sweets, spices, woodwork, jewelry, shoes, jeans, leather goods, perfumes, t-shirts and postcards, all within a few steps of each other. The Ottomans, it seems, invented the discount shopping mall.

Neither Susanne nor I had any inclination to buy souvenirs today. From previous trips abroad we have learned the lesson that if you see something interesting on the first day of your trip, chances are you'll see it have a dozen times elsewhere before you come home - and often at a better price. Besides, we were planning to spend our last two days of the trip back here in Istanbul, so if we saw anything we liked, we would hold off purchasing it until the end of the trip. Of course, this did little to prevent numerous carpet salesmen and shopkeeps from trying to lure us into their shops:

"Come friend! You look like you could use a nice carpet!"

"Have some tea and we shall talk about finding your favorite carpet."

"Bonjour monsieur... Guten tag... Buenos tardes.... Shalom aleichem!"

Every shop owner seemed to be a polyglot fluent in no less than half a dozen languages -- at least fluent enough to make the hard sell. There was a lot of cheap junk around the market, but an equal amount of high-end merchandise as well. Many of the carpets and kilims could set you back $2000 just for starters. The Kapali Çarsi was a true free market republic - everyone here, rich or poor, had an equal opportunity to find the perfect bargain or get summarily ripped off in the process.
I had expected the Kapali Çarsi to be packed with tourists from around the world but we found a surprising number of Turks shopping as well. Clothes, leather goods and jewelry all appeared to be high priority for the Turkish shoppers, while carpets, spices and brassware were the sole dominions of the turistlar. The atmosphere was very festive and energetic, though it still wasn't the place I had expected. Having browsed the bazaars of Cairo, Jerusalem, Delhi and Kathmandu on other travels, I had assumed that Istanbul's great covered market would exude the same magical anarchy you could find in other great bazaars. But because the Kapali Çarsi was organized in perfect rows, perfect compartments, all in perfect harmony, it made the browsing experience, well, a little too perfect. Somewhere within the bowels of this massive market I knew there had to be that ancient bazaar of the Near East that I had yearned for. Perhaps it would just have to be found another day.

Shopping for books in Istanbul's Sahaflar Çarsisi

The far western gate of the Kapali Çarsi opened towards an outdoor market protected by rows of plastic tarps. We had reached the Sahaflar Çarsisi, the old book bazaar. The book bazaar pre-dates the Kapali Çarsi back into Byzantine times, though today most of the shop owners are Turkish members of the Halveti Dervish sect, a Sufi mystic order that practices a form of spiritual ecstasy that combines ritual dance and hyperventilation. Most of the books sold there were in Turkish, but the main reason for our visit was the local collection of antique maps and prints. I've long been a fan of Islamic art and I hoped to make some purchases here at the end of our trip. We wandered from stall to stall, thumbing through thick stacks of illuminated manuscripts, Ottoman calligraphy and ornamented pages from the Quran. Though all of the artwork was painted recently, the parchment used were all scraps of antique Ottoman surplus from the turn of the century. Some of the pages that impressed me most were intricate gold leaf parchments featuring Noah's Ark, each of which started at around $40. No matter the true age of these paintings, they were incredible works of art. I could have spent hours exploring the antique stalls here, but the sounds and smells of the market beckoned us forward.

Beyazit Mosque

The old book bazaar slowly transformed into a flea market as we walked north. We reached an open courtyard with a small mosque and shady garden. The garden was crowded with elderly men playing backgammon, smoking nargileh waterpipes, selling shoes, sketches, even kittens. The courtyard's west gate guided us to a much larger public space -- Beyazit Square, home of the Beyazit Mosque. Back in the 5th century, the Byzantines congregated here as well, when this square hosted the forum of Emperor Theodosius. Over 1100 years later in the 16th century, Sultan Beyazit II built his great mosque at the foot of the forum, continuing the Byzantine tradition of using the square as a central gathering point for the community. Most recently, the northern side of the square has served as the main gate to Istanbul University. Here you could observe modern Turkey's two great virtues -- the secular republic and Islam -- co-existing peacefully as college students in jeans strolled hand-in-hand while the faithful streamed into the mosque for late afternoon prayers.

As Susanne and I reached the gate of Istanbul University and looked down at Beyazit Square below us, we realized that the skies had cleared and an overzealous sun was now making up for lost time, shining its warm beams onto the bright pavement. The concrete plaza became too hot for leisurely people-watching so we veered due east, along the north edge of the Kapali Çarsi through the heart of the open-air flea market. We were most certainly in a market for locals - here you came to buy tools, underwear, blank videotapes and watermelons, not souvenirs and trinkets. Susanne and I both dodged fruit carts, baby carriages and drivers who possessed no interest in pedestrian right-of-way as we worked our way through the crowded streets. Eventually the flea market tents collided with the northern gate to the Kapali Çarsi. Susanne mentioned that she thought there was a small mosque built by Ottoman master architect Mimar Sinan somewhere around the northern reaches of the market. We wandered for a few minutes to find a mosque that was marked on our map, but after reaching it we realized the mosque was much too small and undistinguished to be the place she had in mind. We'd have to conduct further research on its proper location.

After retracing our route out of the Kapali Çarsi we passed the Nuruosmaniye Mosque and that decrepit stone column we surmised to be Constantine's Pillar. Susanne and I walked downhill along Divan Yolu Caddesi, following the tramline tracks towards Aya Sofya. With the sun shining brightly as we reached the bottom of the hill, we were treated to our first unobscured view of Justinian's glorious masterpiece, the Church of Holy Wisdom. Massive yet sublime, Aya Sofya was a timeless attestation to the architectural brilliance of the ancient world. Tomorrow we would have our chance to appreciate its magnificence in person; for now, we needed to rest. This was only our first day in Turkey, and we didn't want to rush.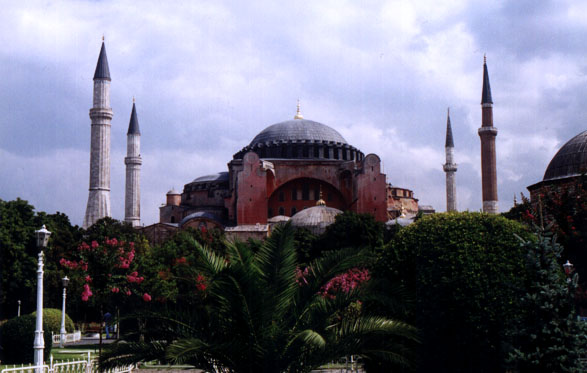 Aya Sofya (Hagia Sophia), The Church of the Holy Wisdom
As Susanne and I walked adjacent to the gardens between Aya Sofya and the Blue Mosque, an old man in a white skullcap approached us. "Merhaba," he said. "Deutsch? Ingilizce?"

"Americans," Susanne replied.

"America!," he exclaimed, clasping his hands together. He then turned towards me and began to speak quickly, repeating the sound "Nüyörg." I thought he was trying to introduce himself.

"Ismim Andy," I replied, trying to be polite.

"No, no," he said. "My son.... In Nüyörg." He pulled out his wallet and showed us a picture of a man in his 20s.

"I think that's his son," Susanne said. "He lives in New York?"

"Yes!" he replied. "Nüyörg!"

"We live in Washington DC," I said, feeling dumb for assuming he had been trying to introduce himself.

"Very close to New York, yes?" the old man responded. "Would you like to have some tea in my carpet shop?"

Susanne and I looked at each other and grinned.

"No thank you," I said. "We have just arrived and we are very tired. Perhaps another day."

"Okay, okay," he replied. He waved goodbye and turned around, walking towards another group of visitors.

"So his son's in New York," I said as we walked away, shaking my head.

"And as soon as he finds out those people are from England," Susanne replied, "his son will probably be in London."

We returned briefly to the Orient Hostel to visit its in-house travel agency. Susanne and I needed to purchase airline tickets to Izmir in order to reach our first stop in Anatolia -- the Greco-Roman ruins of Ephesus. We would also have to arrange our return flight to Istanbul from somewhere in eastern Turkey - probably the city of Van, not far from the Iranian and Iraqi borders. We both wanted to spend some time in Turkish Kurdistan, but we thought it would be prudent to speak with a travel agent first in order to be sure that the region was safe.

For more than a decade, the Kurdish provinces of southeastern Anatolia have been wracked by violence from all sides -- Turkish military forces cracking down on PKK guerrilla activity, rebels attacking military and civilian targets, rival rebel groups attacking each other's villages. The recent capture and subsequent death sentence of PKK guerrilla leader Abdullah Ocalan raised some concerns that Kurdistan would erupt in greater violence, but so far the opposite had been true -- Ocalan himself called for a unilateral cease fire from his death row jail cell. Hopefully the cessation of rebel activity would last long enough for us to visit the region safely.

The young man at the Orient travel agency explained to us that we shouldn't have a problem visiting Kurdistan, and suggested we come by the agency tomorrow morning in order to book our flights. Susanne also wanted us to telephone her contact in Istanbul, a tour guide named Aydin who was friends with one of her colleagues at National Geographic. We had emailed Aydin before departing from Washington, and he had graciously agreed to help us sort out the logistics for our cross-country trip across Anatolia. I tried placing a call to Aydin from the hostel's public phone but was unable to get it to dial his number properly. Instead of pursuing a quick solution, though, I suggested we go out for dinner and try to reach Aydin sometime tomorrow morning.

We departed the hotel a few minutes past 5pm, hoping to get a light dinner before returning for an early night's sleep. Both of us were growing tired from our long, sleepless flight from New York, so we didn't want to stay up too late. We made a brief detour to the Sultanahmet Mosque, hoping to catch a few photos before sunset. Our timing wasn't great, though, for the sun was hanging in the sky in just the wrong place, presenting a tremendous glare through our lenses. The mosque would have to wait another day, I guess.

Susanne and I hiked up Divan Yolu Caddesi, passing no less than a dozen kebapcis and pidecis before selecting a colorful eatery called the Cennet Restaurant. The Cennet was an obvious tourist trap: richly carpeted walls, Ottoman seat cushions, fez-capped waiters. A group of women sat in the center of the restaurant, cooking crepes on a griddle and flatbreads in a tandir oven. Our lamb kebaps and spinach crepes were as bland as could be as expected at a cafe catering solely to western tastes, but neither Susanne and I wanted to challenge our stomachs on our first night in Turkey. There would be plenty of opportunities for us to feast on spicy adana kebaps and köfte platters.

In need of some flavor to wrap up our evening, we stopped for dessert at the legendary Pudding Shop. A notorious 1960s hangout, the Pudding Shop was a munchies mecca for hippies kicking off a journey along the Freak Trail from Europe to Kathmandu. Today the Pudding Shop is no more pretentious than a family-style buffet restaurant, but its subtle retro ambiance made it a great place for a late-night sugar fix. Sticking with the house specialties, Susanne and I each split a cinnamon-kissed rice pudding and a syrupy plate of baklava. Having noticed several other diners drinking ayran, Turkey's ubiquitous yogurt drink, I decided to order a glass for myself. The ayran was cool and refreshing like an Indian lassi, but its exceptionally salty disposition made it a little difficult for me to polish off the entire glass.

After paying the 1.9 million liras for our dessert and drinks, Susanne and I strolled back to the hostel by way of the Blue Mosque. A drizzle began to fall as we arrived near its outer gates. The mosque was all aglow from blue and green spotlights, while a net of small lamps hung between its front minarets, spelling out a commemoration honoring the 700th anniversary of the Ottoman Empire's birth. Several families sat on a row of wooden benches, gazing at the mosque under the protective shelter of their umbrellas.
Sultanahmet Camii (The Blue Mosque) at night
By 8pm, Susanne and I were both ready for bed. Neither of us had slept in over 24 hours, so we looked forward to a long night's sleep. Our peace did not last, however. At 11pm our room began to shake to the pulsating beat of the hostel's adjacent night club.

When I had made our reservation at the hostel, I had been promised a room out of earshot from their disco. As we lay in our beds, counting the hours go by and praying for silence, we learned a hard lesson: skimping on accommodations in Istanbul just ain't worth it.

---