The Close Encounters of the Microsoft Kind Edition
Last Update: December 10, 1996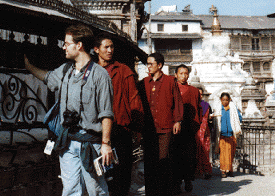 Hi, I'm Andy Carvin, author and designer of EdWeb. I'm the New Media Project Officer at the Corporation for Public Broadcasting in Washington, DC. I received a BS in rhetoric and religion and an MA in telecom policy at Northwestern University in Evanston, Illinois, where I was also editor-in-chief of Art+Performance Magazine.
Here's a picture of me completing a circuit around the great Buddhist stupa of Swayumbunath, perched on a hilltop west of Kathmandu, Nepal. There are hundreds of prayer wheels encircling the stupa, each containing thousands of repetitions of Buddhist mantras on strips of rice paper. By spinning the wheels as you walk, the sacred mantras are released into the ether. Monks and pilgrims from all over Asia come to Swayumbunath in order to perform the ritual. For more on my recent trip to Nepal and India, keep reading...
The Latest Goings-On in Andy's World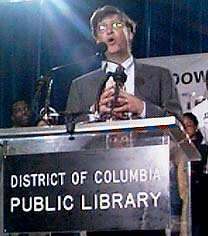 It's been a random kind of week for me, folks. On Wednesday, I got an email from a friend who said there'd be a press conference with Bill Gates at the MLK Memorial Library here in DC. Apparently, Bill was donating a dozen computers and a million dollars Internet access at the library. The press conference wasn't meant to be public, per se, but I went anyway and somehow managed to sit up front, surrounded by the DC city council and the library's board of trustees. The library's director first introduced Washington Redskin Darryl Green, who talked about how computers had opened up new opportunities for his son. Then, Gates spoke, offering us brief remarks on how computers are revolutionizing everything. I even got to ask Bill a question. If you want to hear the full story, check out my Encounter with The Man.

I also recently had the supreme pleasure of seeing and hearing the Dalai Lama speak at an interfaith service for the religious freedom of Tibet at the Washington National Cathedral. The Dalai Lama was in town for, among other things, a belated Passover seder in which Jews and Tibetans compared the strife of modern Tibet with that of the Exodus from Egypt. He was joined at the Cathedral by fellow Nobel laureate Maireid Maguire and Samdech Preah Maha Ghosananda, the Supreme Buddhist Patriarch of Cambodia, as well as several other prominent religious leaders. Seeing the Dalai Lama in person was certainly an experience I'll never forget.
My Trip to India and Nepal - not your usual vacation...
As you may know, I spent most of November wandering the Indian subcontinent. Not for work, mind you - this was strictly vacation. And what an exhausting vacation it was. In 21 days, we wandered northern India, from Delhi and Agra to Varanasi and Calcutta, hiked the hills and meandered the markets of the Kathmandu Valley in Nepal, and braved the monsoon season in Madras and coastal Tamil Nadu. (The gentleman you see to your right, btw, is a Hindu holyman I met at the Kali Temple of Calcutta just before the daily morning goat sacrifice.)
In a nutshell: India is an incredible place. Incredibly crowded and filthy, yet incredibly beautiful and mystical. Whether it was exploring the abandoned Mughal palace city of Fatehpur Sikri or floating down the Ganges at dawn, I was overwhelmed by the life of India and its many peoples, its spirituality, and sadly, the tragedy of it being such an overpopulated and polluted place. Traveling to India was taxing on the soul, but worth it in every way.
Nepal, on the other hand, I found to be a cleansing and peaceful experience, especially after spending a week in the crowded alleyways of Delhi and Varanasi. Though Kathmandu suffers from the same problems that haunt other large third-world cities, I found it to be full of smiling people who worked hard and were immensely proud of what they had. A melting pot of Tibetans, Newaris, Kashmiris, Tamang hillpeople, and many other cultures, Kathmandu was vibrant and alive, always with a new surprise around each corner. I can't wait to go back.
As we do every year, Susanne and I brought tons of film - nearly 25 rolls. We developed around 700 pictures, and I'm now in the process of scanning my favorite pics. To see some of them, please feel free to check out my Subcontinental Slide Show, which includes many of the pictorial highlights of the trip. And for you intrepid readers out there, you can also look at my India and Nepal travelogue - all 40,000 words of it. It's broken down into day-by-day accounts of the trip, and it's interpersed with some of the pictorial highlights of the trip, not to mention recipes of the various dishes we encountered during the trip....
If travel to the Middle East floats your boat, you can also view Andy's Mideast Journal, a travelogue of my wanderings through Egypt, Jordan and Israel in the fall of 1995. From the ruins of Petra in Jordan to the events surrounding the assassination of Yitzhak Rabin, it's all in my travelogue. And of course, there are lots of pictures for you to enjoy, so if you want to see some lovely shots of me hanging out in the desert, check it out.

CivNet: Community Networks, Networking Communities

This past summer, I managed a grant round at CPB in the hopes of finding several online service projects that focused on community building and civic participation. In the end, we selected four projects to receive around $80,000 apiece to help assist their efforts. The four recipients of the CPB Civic Networking Grants include

The CivNet awards will be used for software and website development, public outreach, Internet literacy courses, and training activities. In all, we received 120 proposals from 35 states and the District of Columbia, so the competition was pretty stiff. Please visit the CivNet homepage for more info....

So, you want to learn how to make a website? Scared of tackling HTML? Fret not - assistance is at hand, and it's available right here on EdWeb. Since late 1994 I've offered an HTML Crash Course for Educators as part of EdWeb. It allows users to learn the basic of HTML codes and web page development. Now, I've added a new feature that will let you input HTML code into a web-based form, submit it, and automatically generate your own page. Of course, all of this occurs the context of the HTML tutorial, you're expected to follow the lesson plans, wink wink. The tutorial still isn't perfect yet, but as far as I know, it's the only HTML tutorial on the Internet that allows you to practice what you've learned right there on the same web page. Please check out the Interactive Crash Course and let me know what you think....

Finally, EdWeb has recently received some really nice plugs in the press. It was reviewed in the spring edition of Harvard Educational Review. They'd never reviewed a website in their journal before that issue, so I'm pretty honored they chose my hyperbook as their first pick. EdWeb is also in the August issue of Macworld, which named it one of The Best Mac Web Sites. Finally, EdWeb appeared in the June issue of The Net magazine, as part of its Top 100 Sites on the Internet article. Check out the page that says Top Ten Educational Websites, and see who's listed at the head of the class....
WWWEDU:
The One and Only Mailing List for the Web and Education
In December of 1994, I started an online discussion group called WWWEDU (that's pronounced 'We Do,' by the way), or the World Wide Web in Education. It's a forum for educators, computer people, policy types, and anyone else to discuss the role of the Web in all forms of learning. Currently, there are about 1600 members from 35 nations and all 50 states. We tend to talk about all sorts of things, including new educational web sites, acceptable use policies, student publishing ethics, design issues, etc. The list currently resides at listproc@ready.cpb.org. Click onto the address, send a message that says subscribe wwwedu yourfirstname yourlastname and you'll be added to the discussion. If you want, you can also learn more about WWWEDU, or browse through the WWWEDU archive at FarWest Labs.
Journalistic Musings
Whenever I feel the need to vent, I write. I try to publish about one piece a month, depending on how hectic the rest of my life is. Some of my recent ecritive exploits:

For starters, an op-ed of mine was recently featured in a special issue of THE Journal. It's called Shooting Craps in Cyberspace, and it's basically a an off-the-cuff prediction piece of where the Net is going in relation to education....

My former soapbox: Last year I was on the board of editors and a regular contributor to On the Horizon, an education journal that until recently was published at the University of North Carolina. It's now released by publishing giants Jossey-Bass. As OTH's Internet Editor, I wrote a column on issues related to new media and education. Please feel free to check out my most recent work:

I think I'm beginning to see a pattern here. Coincidence? You decide.

Meanwhile, over at the U.S. Department of Education, you can find a nice collection of white papers on learning and the future of networking technologies. Along with these essays, you'll also notice a conference report I wrote on a two-day educational networking symposium hosted by the Department and attended by the white paper authors. Check it out and see what the experts had to say.

In the January issue of High School Journal, I contributed a piece called More than Just Hype: The World Wide Web as a Tool for Education. Though it's basically a rehash of EdWeb's WWW and Education section, it's still nice it got published in print.

Long long ago (well, long for the Internet - 1995), I penned the cover story for John December's CMC Magazine. It's called The Kids Who Would Be King: Electronic Publishing, Self-Esteem, and the Rocky Road to Expertise. It's a self-imposed change of pace from my usual "why I think the Web is neat" ramblings.

Finally, I've got a couple of chapters on K-12 networking in The Internet Unleashed 1996, published by Sams/Macmillan. Unfortunately, I'm not in the '97 update of the book, so if you want to read what I said, you'll have to hit a decent used bookstore.
Past Projects
In my past life as a grad student I spent much of my free time making video documentaries. My favorite is Negotiating Death, a 45-minute project, 18 months in the making, that discusses the debate over euthanasia and assisted suicide in America. In conjunction with the video, I wrote a massive essay called Words to Live For, Words to Die For, and if you're interested in the intricacies of euthanasia ethics, you might want to take a look at it (be forewarned, though - it's largely a rhetorical philosophy piece with lots of quotes from people like Erich Fromm, Leon Kass and Mircea Eliade). Other documentary efforts have included an analysis of the persuasive effects of cinematic technology in Oliver Stone's JFK and a look at the proliferation of commercial war games during the Gulf War. So, if you have strong feelings concerning euthanasia, the role of religion in public affairs, media ethics, etc., and you like to pick on-line fights, please e-mail me and we'll have a constructive cyberbrawl.
The rest of my spare moments were spent toiling over a rag called Art+Performance, a weekly entertainment magazine in Chicago I co-founded at the end of 1991. If you ever have reason to go to Chicago, or if you like to read about the arts, check out Art+Performance's Home, Home on the Web. Even better, my old comrades-in-editing have done a hell of a job at hypertexting the entire Chicago entertainment scene in a new site called CenterStage Chicago. Seriously - you can find information on almost every theatre, bar, club, bookstore, record store, and restaurant in the Chicago area, all by travelling the Virtual El. Hop on and have a ride.
If your interested in what I used to write about, take a look at my interviews with avant-garde composers Elliott Carter and Pierre Boulez, Kronos Quartet, British pop star Robyn Hitchcock, Pakistani Qawwali singer Nusrat Fateh Ali Khan, and angry rockster Henry Rollins.
Diversions, Current Kicks, and Sundry Obsessions
In my spare time, I like to cook, especially Central American, North African, Indian, Cajun, Thai and Jewish cuisines (Passover fans- please feel free to steal my recipes for chicken soup and kneidlach, latkes, matzah brei and charoset). I also like to read (about a book a fortnight, lest my brain turn to stew), brew beer, speed walk (yeah, it looks silly, but it's still cooler than jogging), play guitar, argue politics and religion, and listen to music. Lots of music. Perennial faves: Rush (well, anything up to 1985 or so), Hüsker Dü (and all things Bob Mould related), Alice in Chains, Tom Waits, Henryk-Mikolai Górecki and Arvo Pärt.
As you can probably see, I'm pretty heavily into music. Right now I'm in my 20th century classical phase (as opposed to my Yes-Genesis-ELP art rock phase, my heavy metal phase, or my world music phase), so if you have anything interesting to say about composers like Górecki, Pärt, Bela Bartok, Charles Ives, Dmitri Shostakovich, Olivier Messiaen, Alfred Schnittke, or Elliot Carter, e-mail me and we'll rap.
Another big hobby of mine is genealogy. Right now I'm trying to track down info on my Dad's side of the family. Even though my last name is currently Carvin, in the Old Country (for me, that'd be Galicia - ie, modern-day southern Poland and Ukraine) our name was Karawan. Karawan, as it turns out, happens to mean 'pall bearer' in Polish, but according to what we've been able to dig up so far, the name originates from a much older and obvious derivative: Caravan. So, our current thinking gives us two possibilities: either my family used to trade along the Persian caravan routes between Eastern Europe and southwest Asia; or, we came from the old Tunisian city of Qairawan, which had an enormous Jewish population in the Middle Ages. Take your pick. Either way, it's interesting stuff to me, and I'd love to learn more. So, if you've ever encountered anyone with the last name Karawan, Karavan, Carawan, etc. (spelling used to be pretty pointless) who happens to be Jewish, or knows of anyone hailing from the small Polish city of Busk, please send them my way. I'd love to learn whatever I can from them...
Finally, if you're still interested in the other career-oriented esotericism which make up my existence, you can also take a look at my slightly outdated resume.
Other Exciting Andy Facts
For those of you who really enjoy delving into my personal life, here are a few more mundane stats about my universe:
Place of Birth: Brigham and Women's Hospital, Boston, Massachusetts
Place of Growing Up: Melbourne, Florida
Place of Higher Education: Evanston, Illinois
Place of Lengthy Sabbatical from Higher Education: Edinburgh, Scotland
Place of Current Residence: Arlington, Virginia
Shoe Size: 10 (US)
Chinese Zodiacal Sign: The Boar
Latest Cooking Craze: Ethiopian Wats
Recent Musical Purchases: The Best of Martya Sebastyen; Rimsky-Korsokov - Sheherezade; Luscious Jackson - Fever In, Fever Out; Arvo Pärt - De Profundis; Squirrel Nut Zippers - Hot; Pavement - Brighten the Course
Recent Movies: Carlito's Way; The Lost World; The Fifth Element; Mean Streets; The Killing Fields; Trainspotting; Salaam Bombay!; Swimming to Cambodia; Ran; Sling Blade; I Shot Andy Warhol
Recent Books: The Ends of the Earth: A Journey to the Frontiers of Anarchy, by Robert Kaplan; Anecdotage, by Gregori von Rezzori; Shah of Shahs, by Ryszard Kapuszinski; Central Europe, by Lonnie Johnson; The Greco-Persian Wars (The Year at Salamis), by Peter Green
Magazines I Subscribe to: National Geographic; Quarterly Journal of Military History; Newsweek; InfoWorld; Consumer Reports; Archaeology; Smithsonian; Interactive Age; Interactive Week; WebWeek; Rolling Stone
Favorite Brew: Chimay Premiere Belgian Ale
Favorite Columnists: Thomas Friedman, Maureen Dowd, Charles Krauthammer(boy, do I disagree with that guy, but that's ok...)
Favorite Chili: Chipotle
Most Commonly Consumed Food: Bananas
Favorite TV Character: Frank Pembleton (Andre Braugher), Homicide
Favorite Crayon Color: Silver
Favorite Place for a Good Time: U Flecku, Prague (granted, a bit out of the way)
Most Esoteric Essay I've ever written: The Use of Symbols in Stalinist Propoganda During the Annexation of Moldova
Favorite Old World Curse: "C'ai takeissa 'na meda meshona faita a paraqua" ("May he have an accident shaped like an umbrella"), used by Piedmontese Jews in Italy
Favorite Endangered Species: the Manatee
Worst Job Ever: Telemarketer (in college)
Best Job Ever: Equal Employment Opportunity Investigator (in college)
Favorite Political Figures: Vaclav Havel, Lowell Weicker, Paul Worst Habits: Watching CNN, Politically Incorrect, The McLaughlin Group, and assorted cooking shows
Grateful Dead Members I've Had the Pleasure of Meeting: Phil Lesh, Mickey Hart
Average Number of Hours Spent On-Line Each Week: 45 (good grief...)
My Worst Interview: Colin Moulding of XTC (really dreary and terse)
My Best Interviews: Robyn Hitchcock, Elliott Carter
My Favorite Interview: Nusrat Fateh Ali Khan
Mac or PC: Mac
Next Year's Vacation Plans: Train tour of the former Ottoman empire (Budapest, Belgrade, Bucharest, Sophia, Istanbul); or trekking across Mali, including Dogon Country

If there are any other useless facts you'd like me to mention here, drop me an e-mail. Don't bother to call.
I always love to hear all comments, criticisms and suggestions concerning EdWeb and anything else you care to talk about.
By email: acarvin@kudzu.cnidr.org
By phone: (202) 879-9824
By mail: Andy Carvin, CPB, Office of New Media, 901 E St. NW, Washington, DC 20004-2037.
And remember. . . .
"On the Internet, no one has to know
you're a Beavis and Butthead fan."
---
EdWeb: Exploring Technology and School Reform, by Andy Carvin. All rights reserved.