Susanne and Andy's
Subcontinental Adventure
Three Weeks in India and Nepal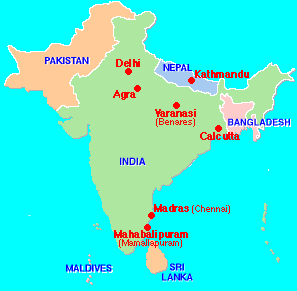 This website is a travelogue and photo essay of my recent trip to India and Nepal with my perennial travel partner, Susanne Cornwall. Along with the journal and pictures, I'll in the process of adding a variety of resources focusing on the history, cultures, and religions of the region. You can even find recipes for many of the foods we sampled on the trip.
© Graphic used with permission of Lonely Planet
To begin, click on any city on the map to your right, or choose from the following diary entries:
Additional Resources:
---
EdWeb: Exploring Technology and School Reform, by Andy Carvin. All rights reserved.