Monday, November 11:
Qutub Minar, Humayun's Tomb, and a taste of Indian bureaucracy
Susanne and I woke up with a clear plan of being out the door by 7am, seeing some sights for a couple of hours, and then getting to the railway station and the Indian Airlines offices to purchase tickets and reconfirm flights. Task number one was foiled by one too many hits of the snooze bar on our alarm clock. By the time we got our act together it was 8:30am, so we autorickshawed directly to the New Delhi Railway Station, an immense concrete sprawl of rickshaws, coolies, beggars, would-be tourguides, stray dogs, stray luggage, stray children, and lepers, not to mention the thousands of travelers actually trying to go someplace else.
We had been told to go to the tourist office for tourist quota tickets - regular reserved tickets were booked solid for at least two weeks. Traveling during Diwali wasn't going to be simple. I approached the inquiry desk to ask where the office was, and the man behind the counter motioned at me to meet him at the entrance to his office. He asked where we wanted to go, and we said we wanted to reach Agra first thing Tuesday morning and then catch a train to Varanasi later that same night. He shook his head as only Indians do - a left-to-right wobble that means OK - and said, "Acha, give me money and I will arrange it, no problem..." At first I was more than a little suspicious for obvious reasons. He then told us to think about it, and he returned to the inquiry desk, getting back to his regular duties for a couple of minutes.
He soon returned with forms labeled 'VIP Quota Reservations" and then started to quote train schedules and times that I knew were correct, according to that day's commuter schedule in the local English paper. Being that this man came from behind the inquiry desk and not from out of an autorickshaw, I went against my better judgment gave him some cash for the tickets. He sent another man from the office scurrying up the stairs to who-knows-where in order to work a reservations miracle for us. I concluded that the odds were in our favor, because the man went back to work, well aware that we were waiting outside the only exit to his office. If I had to wait all day to get our tickets or our money back, I would do just that.
30 minutes passed. I started to give him dirty looks while he gesticulated apologetically and mouthed the words "No problem, no problem." Susanne tried to strike up a conversation with three Japanese girls, but to no avail - she overestimated their English skills. After another 10 minutes or so, just as I was ready to give this guy an all-American tongue lashing, his young friend returned with our tickets. I took some time to review them and make sure everything was in order, while the man and his gopher waited anxiously for my approval. I told him everything was fine and I gave him 20 rupees as thanks, while he looked back proudly with an expression that screamed "I said you could trust me."
The only minor snag was that the Agra-Varanasi train was full booked for days, so the only chance we'd have to get there would be to backtrack from Agra to Mathura, an hour to the north, and then catch an overnight express to Varanasi by way of Lucknow. There were plenty of ways to get to Mathura from Agra, so our big concern was whether or not there would be time for us to get to Agra, see all the sights, and finally reach Mathura in order to catch the train.
We took an autorickshaw back to Connaught Circus and the Indian Airlines office. We had been warned that the lines for reconfirming tickets were often horrendously slow, so I was prepared for the worst. Instead, we found ourselves in a spacious office with no less than 10 separate counters. I quickly got to an agent who began to look over our tickets. He then developed a puzzled look on his face. "Where are your tickets to Agra, Jaipur, Dhaka, and Amritsar?" he asked. I said we hadn't purchased any. He said we had reservations, and wanted to know why were weren't going there. It turns out that our travel agent in the US booked reservations for every city we brainstormed a trip to, but never bothered to cancel them after we had settled on a final itinerary.
The agent was not pleased. He started to cancel the incorrect reservations, but then he said that there wasn't a flight from Kathmandu to Calcutta on the 21st of November, despite what it said on our tickets. Somehow, our travel agent had booked us on a flight that didn't exist on that particular day. We were potentially stranded in Kathmandu for another day. The reservations agent was clearly irritated by all of this. To make matters worse, he said he saw no trace of our other tickets to Madras and then back to Delhi, but if I wanted it, he would book them for us. My blood began to boil as I considered the prospects of having to repurchase over $700 worth of tickets all over again. But we had little choice but to do whatever he asked, so I frustratingly said, "Just do it." At this point, the computer network crashed. It was almost funny. In fact, I somehow remained mostly unstressed about the situation and patiently sat down with Susanne, who was enjoying the antics of a small French boy.
The computer terminals were up and running 15 minutes later. I occupied myself with a young Sikh boy sitting on the counter. We started to make funny faces at each other, but once I ran out of all the contortions I could think of, he got bored and looked away. Susanne was always better at this kind of stuff. By now, though, the agent was wrapping up his work with us. He handed me my tickets with some new printouts, and then told us to have a pleasant journey. That was it. No more reissued tickets, no new credit card bills. It was almost noon and the morning was wasted, but at least we had the peace of mind knowing that our travel arrangements for the rest or the trip were secure.
We hired an autorickshaw driver for a couple of hours to shuttle us around to some of Delhi's more distant sites. The driver took us south through the heart of Sir Edwin Lutyen's New Delhi - India Gate, Rajpath, and the Secretariat Buildings, all of which looked oddly out of place, perhaps more at home in Washington DC, Paris, or even Nurenburg. The marbled Edwardian grandeur of New Delhi was distinctly un-Indian - another clear reminder of the immortality of the British Raj.
Our first stop was the Qutub Minar, a 12th-century mosque and mausoleum complex best known for its minar, a gargantuan 240-foot tower, the tallest stone tower in the world. We could see the minar in the the distance as we drove closer - the workmanship and detail was magnificent. The minar was constructed by Qutub-id-din Aibak, the Afghan slave-general who sacked Delhi in 1193 for his master, Muhammad of Ghur, and became its sultan upon Ghur's death in 1206, thus beginning an Islamic reign of north India that was to last until 1858.
The ticket line to get in the complex was long, but a woman's only line helped speed up the process. After squeezing through a crowd of autorickshaw-wallahs, postcard salesmen and snake charmers, we entered the site. It was lush and green, with hundreds of Indian tourists and school groups meandering the grounds. We first approached Qutub-Id-Din's mosque, the oldest in India. Much of it was in ruin, but certain sections were still in impressive condition, with several dozen columns gracing the courtyard. In the center of the mosque was a 30-foot iron pillar, estimated to be at least 1500 years old. Yet the pillar has never shown any signs of rust - its iron composite still baffles scientists today. To the right of the mosque lay the ruins of an unfinished tower, the Alai Minar, begun by one of Qutub's successors, Ala-ud-din Khalji, about 100 years later. Apparently Ala-ud-din planned to build this monument twice as high as Qutub's, but he died suddenly and interest in the project soon waned, leaving a huge stump of stone that looked a lot like a replica of Devil's Tower in Wyoming.
We went to the left through the mosque's mausoleum complex. The style of the stone cutting and archways was very reminiscent of an English abbey, it seemed. We then visited the Qutub Minar itself. Up close, it looked like an ancient stone lighthouse - I kept on thinking of the Pharos of Alexandria and whether or not it might have looked similar. Qutub-ud-din's name literally means 'axis of the faith' - an appropriate choice considering how central this tower was to his newly founded sultanate. We weren't allowed to climb inside the tower, due to a stampede incident a few years back that killed several schoolkids. A shame, really, for the view must have been magnificent.
After wandering through the gardens with our driver (a nice enough man but with questionable profit motives), we left for the tomb of Humayun (reigned 1530-1540, deposed 1540-1555, reigned again 1555-1556), the second of the six great Mughal emperors, which therefore made him a direct descendant of Timur and Genghis Khan. Just outside the tomb complex we drove around a small circus, in which stood a large blue domed structure, the Sabz Burj (literally, 'blue tower'). The ancestral link between Mughal architecture and its Central Asian and Turkic forebears was obvious here - its dome and beautiful blue tiles could have just as easily graced the the Registan of Samarkand or the mosques of Bukhara.
Entrance to the tomb was a dollar, most of which went to the outrageous camera fees, as usual. We could see the dome of the tomb jutting out beyond a secondary entrance, and to the right were several temple structures that appeared to be several centuries older than the 16th century tomb (turns out I was wrong - they were contemporary mosques at the time, but had fared less successfully over the centuries). We continued ahead through the next entrance gate and then found ourselves confronting the tomb itself, 100 yards ahead down a gardened path. The tomb was splendid, with red and white sandstone and intricate geometric designs of stars of David and swastikas, both ancient Hindu symbols adopted by the Mughals. The domed tomb complex was on a raised platform which required one to climb a dozen steps on a steep incline. The angle became the obvious butt of jokes, for old Humayun himself died when he tripped down the high steps of the library which stood just to the right of the tomb.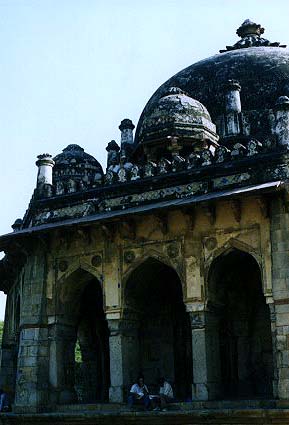 We walked clockwise around the structure until we found the tomb's main entrance on the south side. The tomb itself was a simple marble slab lying directly below the dome. The acoustics inside caused all sound to echo well, which Susanne tested with a short soprano burst when no one else was around. We then climbed down the south side stairs and checked out the aforementioned library of Humayun's unfortunate demise. No one seemed to be going inside of it, but we soon realized why. We poked our heads in and saw scores of bats perched on the ceiling. An unusual rotten smell that we quickly concluded was bat guano permeated the air. Not feeling very welcome, we turned around and strolled back towards the exit, getting a nice picture of a brahma bull munching on some grass in front of the tomb.
We lazily continued along the gardens on the perimeter of the tomb and made our way to the exit. It was now 3pm, and we were quite hungry and parched. A quick bottle of coke helped quench our thirst so we decided to walk down the road to find the tomb of Nizamuddin, the great Sufi saint who died penniless after giving his wealth to the poor of Delhi, including Hindus as well as fellow Muslims. At first we couldn't find the proper side street that lead to the entrance, so we backtracked and turned at the first alley we could find. If we couldn't locate the tomb quickly, we'd skip it, give into our stomachs' demands and return to Connaught for some grub.
We were not prepared for what we found down that alley. Despite the fact we were in New Delhi, we stumbled onto an alleyway that was more tragic and destitute than anything we had seen in Old Delhi. The streets were teaming with Sufi worshippers heading to mid-afternoon prayers at the Nizamuddin shrine, which lay somewhere further ahead. But along the gutter was one wretched leper after another, missing arms, legs, ears, and other indescribable deformities. A small girl, no older than four, filthy and in tatters, began to follow us around trying to grab my hand with every step, while crying, "For food, sir; for food, madam," over and over. No matter where we walked, she followed, inches from my side.
Even though we were a mere dozen or so yards from Nizamuddin's tomb, Susanne and I knew that were not up for the stressful task of visiting it today. So we walked as fast as possible to the closest autorickshaw stand. The little girl followed. We climbed in the rickshaw. She tried to reach in through the side of the cab, grabbing my leg. We began to drive off. She ran along side the rickshaw as fast as she could, until we finally speeded away at too great a speed for her to keep up. We soon arrived at Connaught Place, stunned and silent. I couldn't believe how much the scene at the shrine had affected us. Connaught was such a different world compared to the third world slums around Nizamuddin - now we were among clothing stores, cafes, travel agencies, banks, and upscale shops. I couldn't believe that only a couple of kilometers separated these two existences.
It was now about 4pm. Lunch had turned into an early dinner, so we decided to try the United Coffee Shop. It was a lovely place with high ceilings, large mirrors, and chandeliers, with every table packed with upscale Indians and a few westerners thumbing through Lonely Planet guides. We were soon seated, so we ordered a paneer dosa, rogan jhosh, and a plate of naan. I even broke down and had my first beer of the trip - a large bottle of Kingfisher. Not exactly tasty, but thoroughly refreshing after a long and hot day.
The food was marvelous and the ambience was relaxing, but then they started to play a song that distinctively sounded like the Macarena. We didn't recognize it at first, for it was faster and more techno-sounding than the popular American version. But the CD continued into what was to be an hour-long international Macarenathon, with at least a dozen versions I didn't even know existed. The restaurant's other patrons continued to enjoy their meals while Susanne and I were transfixed by the music. We concluded it was conspiracy of some sort, how the Macarena had successfully penetrated every culture in the world. I was now time for the invasion to begin.
Because we knew we'd have to be at 4:30am the next day to catch the train to Agra, we lazed away the evening back at the hotel. Susanne napped while I returned to Nirula's restaurant for a yogurt and some tea that never arrived, despite several attempts to receive it. I worked on my journal for a bit, but I ended up secretly enjoying the company sitting next to me. There was a thin German man, with specs, a goatee, and covered in sweat - a spitting image of John Hurt in Midnight Express. Next to him sat a tall Tamil man, dressed in a red sweater, who said nothing and did little the entire time except play with his food. And the best of the lot was an honest-to-goodness sadhu - a Hindu holyman - about 50 years old, in saffron robes, shoeless, with long fingernails and dreadlock wrapped up into a vertical beehive. The German talked quickly in Hindi, chugging black coffee and scratching what had to be over 100 mosquito bites on his arms. The Tamil played with his food, still not saying a word. And the sadhu, of all things, chainsmoked while drinking a bottle of Black Label beer and eating two personal pizzas at once. I had found my amusement for the evening.
I returned to the hotel room around 7pm. Susanne was out cold, and when I woke her up, she ordered me away for another hour. I grabbed a Teem from the fridge (yes, they still drink Teem in India) and sat out in the veranda on a wicker sofa under a slowly spinning fan. As I sat there and wrote, I felt as if I were a guest of some dying vestige of the Raj. By 8pm, I returned to the room and Susanne began to stir. We watched the news and some hilarious British children's puppet program that had been redubbed into Hindi. Bedtime was 10pm - that would give us a good six hours to sleep and dream of a successful lightning raid on Agra the next day.
Next Entry: Our day in Agra.
Take me back to the journal index.
Take me back to Andy's Waste of Bandwidth.


---
EdWeb: Exploring Technology and School Reform, by Andy Carvin. All rights reserved.