Monday, November 18:
Pashupatinath, Bodnath, and other Kathmandu antics
We got up before dawn to get a fresh start for the day. Well, at least I did. Susanne's stomach problems only seemed to worsen as time passed, so while I showered, she stayed curled up in bed, a bottle of Pepto by her side. At first, she told me to go to Pashupatinath and Bodnath by myself. I refused. It was one thing for me to go wander the streets of Kathmandu on my own, but for me to conquer new places while leaving her behind at the hotel, well, that dog don't hunt. So with a bit of prodding, she acquiesced.
From Thamel, we caught a bicycle rickshaw to Pashupatinath. I figured a slow bike ride wouldn't unsettle Susanne's stomach as much as a motorized vehicle would. In that regard, my instincts were correct, but what I misjudged was the hellishness a poor bicycle-wallah would have to endure in order to get us there. The hills that lead to Pashupatinath were so steep, the poor wallah couldn't peddle up to the top. So we took mercy on him and walked the last several hundred feet, as he turned around and coasted back to Kathmandu.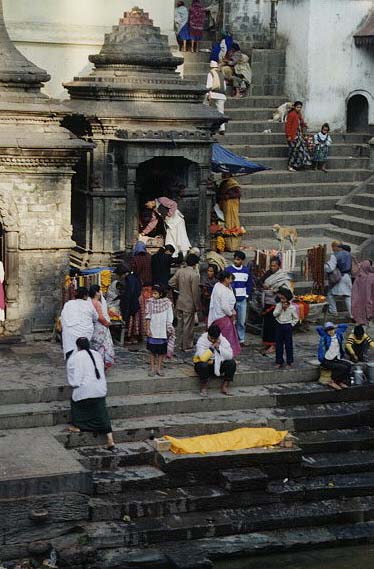 Pashupatinath is to Nepal as Varanasi is to India - it's one of the holiest Hindu sites in the subcontinent, and the river that bisects it is used for ritual bathing cremations. Unlike Varanasi, though, Pashupatinath is much smaller and less crowded, and rituals occur on both sides of the riverbanks. The Bagmati river is only 100 feet across at its widest in Pashupatinath, so a series of small bridges allow pilgrims to cross with ease. Most visitors come to see the Temple of Pashupatinath, but like so many other Hindu sites, we non-Hindus weren't allowed inside. We observed the goings-on from the east side of the river.
On the ghats across from us, five women wailed uncontrollably as they prepared the wrapped corpse of a loved one for cremation. Technically, photography is still allowed here, but I refrained from getting too close to the ceremony. I considered the reverse: if I were about to bury someone and a busload of tourists from Hyderabad pulled over and started to take pictures and videos of my family, I'd be pretty ticked off.
A series of small shrines lead up a hill to the top of Pashupatinath. There was a sadhu sitting by one of them, strategically positioned to get the best photograph (and in turn, the best baksheesh from tourists). I knew he was worth a picture, so I took the shot, at which point he said, "30 rupees." Unbelievable - in Nepal, that's two day's salary for the average person. I gave him five rupees and he glared at me for a minute, but then returned to his peaceful demeanor as soon as the next tourist approached.
At the top of the hill we found more white shrines, many with bells that could ring out for great distances (I tested one while no one was looking). A playful dog followed us around for a bit, but by the time I got out my camera, he became bored with us and left. There was a small squatter's camp on the hill's plateau, and behind it we could see a large wooded area. We walked into the woods and looked around - it was a serene, yet strange place, with dusty sunrays falling between the leaves and branches, and a pair of monkeys challenging each other's territory. The trees were large, knotted and bent. I could imagine Buddha himself sitting under one of the banyan trees, contemplating the road to enlightenment.
Eventually, we returned to the path and headed down the other side of the hill, where we found another temple at the foot of the riverbank. From there, it was about a 30 minute walk to Bodnath, the largest stupa in Nepal and one of the holiest Tibetan sites outside of Tibet. The walk led us through a semi-developed, semi-rural community. Lots of young kids in school uniforms were trotting their way to school. Farmers tended their crops while a group of teenagers played a game of Tigers and Goats (the national game of Nepal) at an impromptu cafe stand. The LP Guide wasn't very detailed in terms of how to get to Bodnath, so I was a bit concerned that we might be getting lost. Then, dead ahead of us over a hilltop, I could see Bodnath in the distance, its mesmerizing gaze almost pulling us forward.
We continued up the unpaved road for another few minutes until it terminated at a bustling thoroughfare full of rickshaws, goats and Coca-Cola stands. An elaborate metal and wood gate stood across the street, marking the main entrance into Bodnath. The gate led us up a short step path to the stupa itself, over 150 feet high and occupying at least an acre of space.
The immensity of Bodnath made the stupa of Swayumbunath seem like an afterthought - I'm glad we visited it first. Susanne and I walked around the stupa as the sounds of Tibetan horns and drums echoed from all directions. About a quarter of the way around the stupa's base, we found a red and gold gompa, a Tibetan Buddhist monastery. To the left of its entrance was an incredibly large prayer wheel, about 15 feel high and 8 feet across. I took off my shoes and entered the main sanctuary of the gompa. About a dozen Tibetan monks were chanting, evenly spaced across from each other in two rows. It was rather dark inside, but the rays of light that reached in from the entrance bounced off of a 10-foot golden statue of Buddha. As I reached the base of the Buddha shrine, I placed 10 rupees in a donation box. As if on cue, the monks broke out into a cacophanous roar, blowing horns and oboes, banging drums and cymbals. I suddenly felt as if I had been transported through time in space and was now standing in the great Potala palace in Lhasa. All that was missing was the Dalai Lama. It was a singularly overwhelming and uncanny experience.
At the north end of the stupa, we found the main stairwell that would allow us to ascend the three tiers of the stupa's platform. We walked around Bodnath, its gargantuan white hemispherical body to our right. High up on the stupa I could see several men who appeared to be doing some kind of maintenance work, fastening new streams of prayer flags and tossing buckets of rusty red water that streaked down the side of the stupa, adding flairs of color to its immense whiteness. A monk approached us and asked for a donation to a refugee charity. I have no idea how much money I handed him - I was so absorbed by the experience that he could have probably asked me for a credit card successfully. We made a circle or two around the highest tier of the stupa and then returned to the ground for a climb to the top of a terraced restaurant, the Stupa View. Stupid name, stupendous view. The tea was weak but sat for an hour drawing pictures of Bodnath.
Ever since the Chinese invasion of Tibet, there's been a large refugee presence in Kathmandu, and many of these refugees settled in the neighborhoods surrounding Bodnath. Because of this, the shops around the stupa were some of the best places to find a solid variety of Tibetan goods and artifacts - albeit at highly inflated prices. We decided to look around and see if they had anything unusual. There were the usual prayer wheels, singing bowls and gurkha knives that you could find everywhere in Nepal, but I eventually found a nice little paper shop, where I bought a handmade notebook just in case I ran out of space in my journal.
We returned to Thamel and had what might have been the worst pizzas on earth at La Dolca Vita. This probably didn't help Susanne's stomach, as she almost keeled over in the street. We took a slow pace and walked south through Thamel toward Durbar Square. Susanne had regretted not purchasing a thangka as I had in Patan, so we browsed through several shops until we found one that had a similar selection. We were so impressed with their collection that I ended up buying a second picture along with her.
Once we reached Durbar Square we climbed up the Maju Deval temple, sat ourselves down and began to draw. Susanne tried to capture random individual images, while I attempted to recreate the entire panorama, from the Shiva-Parvati temple all the way to my left to the Kumari Chowk over to my right. During the hour we sat there, numerous kids joined us to check out our work. Most of them were content on watching us draw, while only one or two approached us for "one rupee, one rupee, school pen, or bon bon." A cute 10-year-old girl taught Susanne the Nepali word for eyes - "akka."
As the sun began to reach towards the horizon, the temperature plummeted with it, so we returned to the hotel to try to warm up. We got caught in the rush of the late afternoon markets, as hundreds of people bearing fruits and vegetables made their way along the main road and square, Indra Chowk. We stopped at a chemist on a lark to see if they had any Actifed for our cold symptoms - he did, at about 1 rupee per dose. I bought 100. I figured that was more than enough to get both of us through the trip, and they were a steal here compared to the cost of Actifed in the States. There was a tradeoff, though - these pills weren't coated and tasted absolutely vile. They were so bad we rushed onward to another stall just to buy toffees to get that damn taste out of our mouths.
It's a slow night at the hotel. After a day like this, I'll sleep well.
Next Entry: A random walk in Kathmandu
Take me back to the journal index.
Take me back to Andy's Waste of Bandwidth.


---
EdWeb: Exploring Technology and School Reform, by Andy Carvin. All rights reserved.