Saturday, January 17, 2004
Attn Syndicators: Please update your RSS feed for my site!
Goodbye Blogger, Hello Movable Type! After several weeks of technical agony, I've finally managed to install Moveable Type onto my server. So starting today, my blog will be managed by MT rather than Blogger. You'll soon noticed the new style of the blog; along with the different layout, the new blog will feature search tools, user comments and a much more sophisticated RSS feed. So for those of you who syndicate my site, please update the RSS feed to
http://edwebproject.org/andy/blog/index.rdf
.
Anyway, on with the show.... -ac
Sunday, January 11, 2004
A Belated Phlog through the Southern Balkans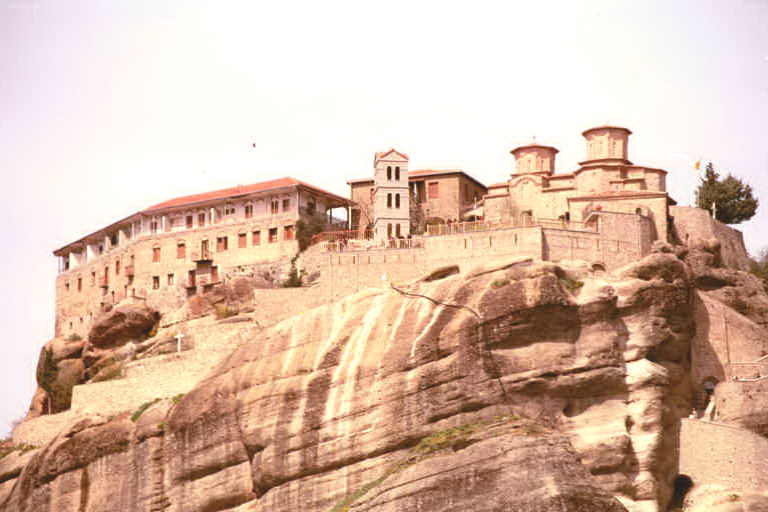 View of the Megalou Monastery in Meteora, Greece
I recently started going through my collections of photo CD-ROMs from various trips I've taken over the last five years, and suddenly realized that I'd gotten really lazy about posting them on the Web. Fortunately, I've managed to have my act together for recent trips like
Dubai and Oman
and my
honeymoon in Bali
, but there were at least half a dozen trips that never managed to get a single photo posted online. Shameful. So over the Christmas holidays I suddenly got a burst of energy and began the process and cataloging, editing and publishing these rather belated phlogs (photo blogs).
Today, I've wrapped up work on my photo blog for the
southern Balkans
. In March 2001, Susanne and I went to Greece so I could speak at a youth technology conference in Thessaloniki. Somehow we'd managed to forget to take a real vacation in 2000, so we used the conference as an excuse to go to Greece a little early so we could explore the northern part of the country, as well as the medieval Albanian town of
Gjirokastra
. Once the conference started, Susanne returned to the US; I was supposed to travel onward to Kosovo, but a spate of fighting broke out in the former Yugoslav Republic of Macedonia, shutting down my route to Kosovo. So instead I went to
Istanbul
for a few days and visited a local high school that was one of the first to make the Internet available to its students.
Now that I've got this phlog wrapped up and ready to go, it's time to start work on a bigger project: a photogallery and travelogue of our November 2001 trip to Rajasthan, India. This trip was a much bigger endeavour: we took over 1000 photos over the course of two weeks. I also kept a brief diary that I'd intended to use as the basis for a much larger online travelogue. Unfortunately I never got my act together and I've forgotten much of the details that would have been included in it. Instead, I'm going to do my best and convert my diary notes into something that hopefully will at least be of passing interest to a few of you out there in cyberland. So stay tuned and I'll let you know when the Rajasthan is ready; in the mean time, please visit my
Southern Balkans Photo Diary
and imagine yourself eating olives and spanikopita.... -ac